BR Aggro in Dark Ascension Standard *Part 2*
By


Hi guys, here is part two of my post as I explore the archetype of Black and Red as the metagame shapes up in post Dark Ascension Standard. With the recently concluded PT Honolulu a.k.a. PT Dark Ascension, I am pretty sure the meta will change again.
The top deck from the PT was Wolf Run Ramp piloted by Brian Kibler, and as I look at the build, it was Huntmaster of the Fells that defined that deck archetype. The Tier 1 decks after the PT would probably be Wolf Run Ramp, Delver Spirits, Mono Green Aggro, Naya Pod and maybe an updated Esper Control.
As for the Black Red archetypes, I've looked on similar decklists at the Pro Tour Top performing decks and found two major variations:
1. A Black Red aggro with Zombies as core components.
2. A Mono Black Zombies deck with Cemetery Reapers & Lashwrithes. One particular version is with Skirsdag High Priests, which I find awesomely unique.
Here is the Pro Tour decklist that I'm planning to test and maybe change a bit:
Black Red Aggro by Eric Meng
Pro Tour Dark Ascension, Standard Constructed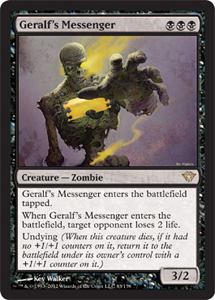 Maindeck
4 Blackcleave Cliffs
4 Dragonskull Summit
4 Mountain
10 Swamp
4 Diregraf Ghoul
2 Falkenrath Aristocrat
2 Fume Spitter
4 Geralf's Messenger
4 Gravecrawler
3 Porcelain Legionnaire
4 Stormblood Berserker
2 Arc Trail
2 Brimstone Volley
3 Galvanic Blast
3 Gut Shot
4 Incinerate
1 Sword of War and Peace
Sideboard
1 Act of Aggression
2 Distress
1 Doom Blade
1 Go for the Throat
1 Liliana of the Veil
2 Manabarbs
1 Phyrexian Metamorph
3 Ratchet Bomb
1 Sword of Feast and Famine
2 Sword of War and Peace
The list fitted well to my preferred critters to include in my build. The major problem here though is the proper mana fix. Even with the eight BR duals, it is not enough to properly curve out into a turn-three Geralf's Messenger with its 3-Black mana cost.
My best resort here is to lower the count of the red cards. Meng's build already compensate that, even with Gut Shots that are pseudo-zero to cast.
I don't like 1 damage burn spells so I cut these instants and lower down to 3 berserkers. Also, Falkenrath Aristocrat is not that good with all the Spirit Tokens flying around so I replaced her with my ol' time fave, Hero of Oxid Ridge.
Here is my version 2 list:
Black Red Zombie Aggro by Mark Ian Alloso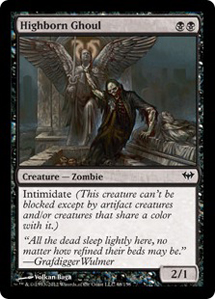 Maindeck
10 Swamp
4 Mountain
4 Dragonskull Summit
4 Blackcleave Cliffs
4 Gravecrawler
4 Diregraf Ghoul
2 Hero of Oxid Ridge
3 Stormblood Berserker
4 Geralf's Messenger
1 Skinrender
2 Porcelain Legionnaire
2 Highborn Ghoul
2 Fume Spitter
2 Arc Trail
2 Brimstone Volley
3 Geth's Verdict
2 Galvanic Blast
4 Incinerate
1 Sword of War and Peace
To balance the creature count, I've decided to vary it a bit by adding two Highborn Ghouls. I've wanted to take advantage of the Intimidate to deal in damage for burn range or be a berserker-enabler.
Geth's verdict is also a personal choice as Hexproof is still quite popular and there's a bonus life loss. The singleton Skinrender is to deal with three toughness critters, like the Dungeon Geist for example.
I'm still planning on a good sideboard list just yet, but it will definitely reflect on our local metagame. Meng's SB list would still be my major reference for that.
To conclude, the deck will still undergo major playtesting to refine some loopholes and maybe adjust it a bit to other decks as the meta progresses.
Until next time and thanks for reading. 😀