Traversing the Sidewalks of Downtown Iloilo
By

I've been walking from office to my apartment these past days as a sort of an exercise and also to do some observation of the street activities in the downtown area. This is my way of experiencing first-hand the scenarios of the streets.
My walk starts on JM Basa street and crossing to Valeria street to SM Delgado, then finally traversing Delgado street to Jalandoni street. I've noticed that most of the sidewalks are littered with various obstructions such as vendor stalls and parked vehicles. Also noticeable are the sidewalks used as mini terminals of trisikads and tricycles.
Pictured below is one exact example. This is a scene along Delgado street and you will see vehicles obstructing the sidewalk, forcing pedestrians to walk through the road instead.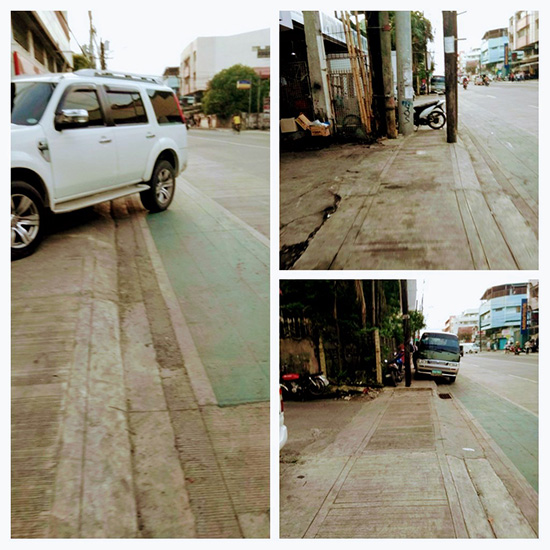 People should be aware of its importance. If we want to promote a more walkable Iloilo City, we should protect the pedestrians by providing them with more walkable sidewalks. Sidewalks, if they are lacking in some way (being broken, occupied by cars and tricycles, occupied by small vendors and establishments) people is going to use the streets to walk, making it dangerous for them and also slowing the traffic. This increases the chances of accidents and generating a sense of lack of security for the people, which they would rather commute than to walk.
There are still other factors to consider, but we have to start somewhere. Public awareness could be an option. We can also propose to revise the current policies of the city or formulate a new plan, which could probably be our work in the City Planning and Development office.
Either way, the end result should be favored and for the benefit of the people, both on pedestrians and commuters.

*header image from https://ayosaoi.wordpress.com