GP Hong Kong 2017 Tourney Report Pt. 1
By

Hong Kong is currently my most traveled place abroad. It was my third time to visit the country with the same main reason for joining the scheduled MtG Grand Prix event. This is actually my third Grand Prix HK that I have joined with the same Limited format, this time on the Ixalan set of Pirates, Dinosaurs, Vampires, exploration, and stuff. The event was dated to be held on October 27-29, 2017. I did not bring much except for a Standard deck which I would play for Friday's GP Last-Chance trials for byes.
To be honest, I had not initially planned to travel there last year but upon after renewing my Philippine Passport, and with a lot of convincing from my friend and kumpare Jayr, I decided to go and started looking for promo airline tickets. I was then able to purchase one last May which cost me around 6K plus for round-trip tickets, Iloilo to Hong Kong vice versa.
Jayr was to travel with his family and brother and they will be renting an apartment on AirBnB and so I was opted to join. This was quite new as my previous accommodations were only at hostels in the urban areas in Tsim Sha Tsui. We also planned to purchase an Octopus card which we can use to pay for public transportation, like the bus traveling to and from the airport and for our MTR travel to the event venue. The card can also be used to pay for items bought from supermarkets and food from restaurants. I also purchased some HK dollar currency beforehand for pocket money needed for purchasing the said card and other stuff after arriving at the airport. Do take note to have at least 500 HKD with you, especially if you still have a balance to pay for your hotel reservation.
The flight from Iloilo was around 10:30 pm and arrived at past 1 am in the morning at the Hong Kong International Airport. Thankfully the whole trip was calm as there was no typhoon that time though I was not able to get enough sleep even with the leaned back of my chair. Arriving after the usual security checks, we were welcomed and greeted by Jayr's mother-in-law and she brought food for us to chow down while we wait for the morning. I somewhat got sleepy after eating and so I positioned myself in a comfortable flat part of the square fountain in their waiting area for a quick nap.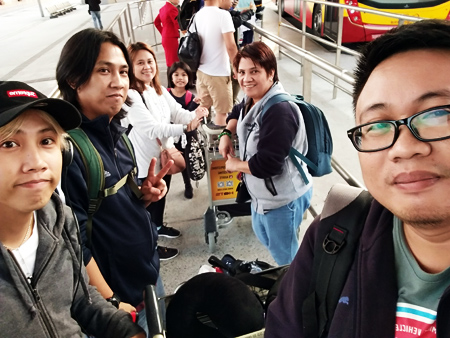 It was already past 7 am when the booth for the Octopus card opened and we quickly lined up to purchase ours. The card costs at 100 HKD but it is preloaded with a 50 HKD amount which we can initially use for the bus fare from the airport. It can then be reloaded at convenience stores in train stations. We decided to just proceed to the Grand Prix venue at the Kowloonbay International Trade & Exhibition Centre since the check-in time at the apartment will still be at 3 pm that day.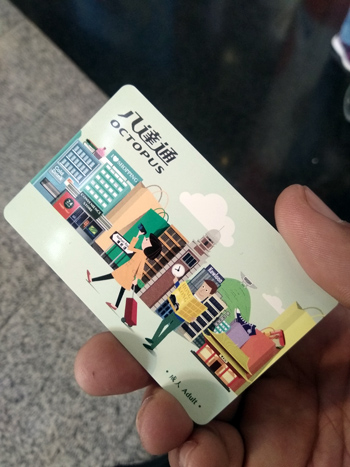 After the breakfast at Mcdonalds located on the ground floor, we then went to the venue at the third floor, which was the same venue as the last GP HK I played, to check on the on-going tournaments and to register to the main event as well. There were a lot of players playing sealed and booster drafts and the artists' signing booth were also crowded.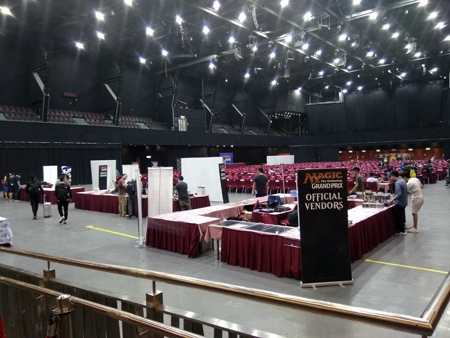 I immediately signed up for the Standard LCQ and there were only three players listed with me as the fourth player. The scheduled time was 12:30 pm which was almost an hour to go, so we went around to observe the players' matches to get familiar more with Ixalan Limited.
To be continued…